Several years ago, VentureRadar set off on a journey to support business professionals across industries, helping them to discover, track and research companies. Since then, we have built an engaged audience of more than 100,000 corporations, investors, and others that rely on us to find companies they can buy from, partner with, invest in, or acquire.

Now, we are taking it another step further and putting you in the driver's seat. We are launching a new feature that will allow startup (and other) companies to update their profiles on our platform, so claim your company profile on VentureRadar to increase your exposure and access new business opportunities.

How does the new feature work and what are the benefits it brings?

Targeted marketing

The VentureRadar Database has more than 85,000 unique visitors per month and more than 100,000 registered users across the globe. We are an essential resource for corporations, investors, journalists and more to find and track dynamic companies like yours.

By using the new profile updating feature, you can gain exposure to this pool of diverse actors and the opportunity to shape your profile to attract the audience you need. Many of our clients rely on the platform to find specialist skills and technologies to partner with or help solve their innovation and growth challenges – and now you can speak to them in your own voice.

But this marketing also has an HR aspect to it: High-skilled employees use VentureRadar as a window to proactively find and assess companies in emerging, dynamic industries that they want to work in. A polished profile might help you find the talent you need to succeed!

Rise above the crowd

We know that standing out from the crowd is easier said than done. Being on VentureRadar allows you to show your uniqueness and be discovered by business professionals that are looking for the exact skills, technologies, and innovations your company possesses.

With the new feature, you can choose what type of messaging and content to use to shine as the leader in your sector. You have the space to highlight the innovations you are working on and the pain points your business tackles – and ultimately – how you fit into the industry.

Access new business opportunities

Our users scour VentureRadar 24 hours a day to find companies with specific skills, technologies, and innovations. The VentureRadar team also carries out scouting projects directly for clients, mining our data and matching more than 5,000 companies per year directly to our clients across a wide range of sectors.

By taking control of your profile, you can also attract investors and acquirers that are wanting to find, filter, and assess investment and M&A targets. And for early stage companies you can gain better exposure to incubator and accelerator managers that use our platform to proactively scout startups to invite to their programs.

Take control of your profile today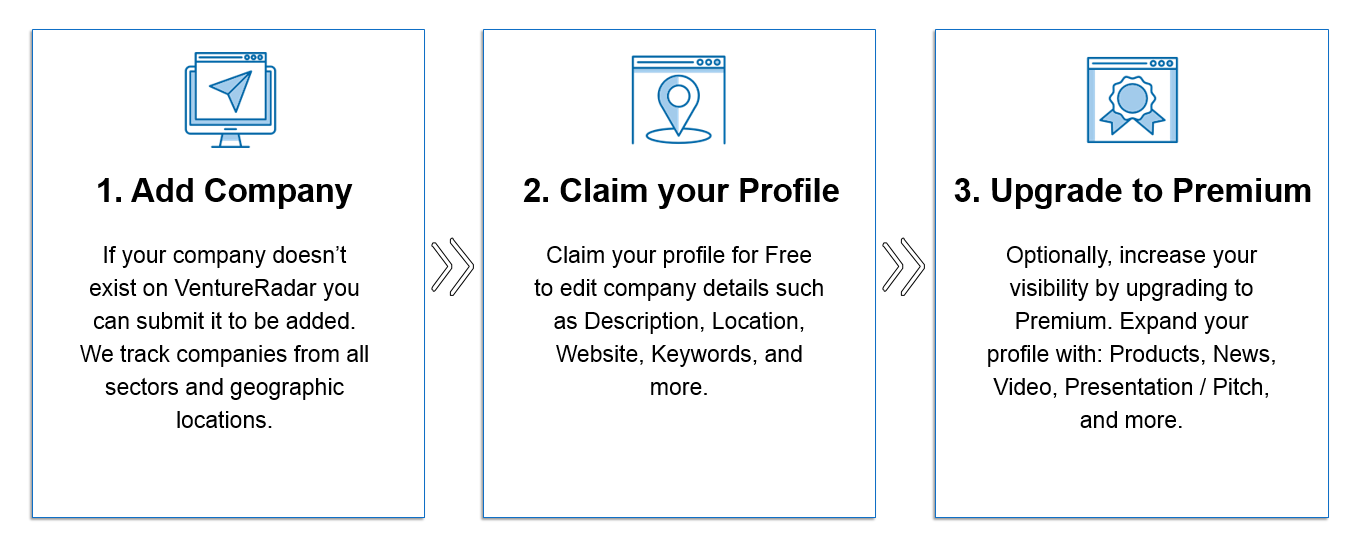 If your company doesn't have a VentureRadar profile yet, you can submit it to be added. After the profile is created, you can claim it for free to edit the details, including description, location, website, keywords, and more.

You can also upgrade your profile to Premium. This allows you to increase your visibility even further and expand your profile with sections for products, news, video, company presentation / pitch, and others.
.