Computer vision is a multi-disciplinary field in which many of the supporting technology areas are developing rapidly, such as computer science, artificial intelligence, mechanical engineering and physics. As these supporting technologies move forward, many markets where computer vision is applicable could be revolutionized in the coming years; from medical applications, security, movie making, agriculture and many more.
In this article, we pick 10 cutting edge applications of computer vision technology and our favourite computer vision startups and private companies (also sometimes described as machine vision) associated with each.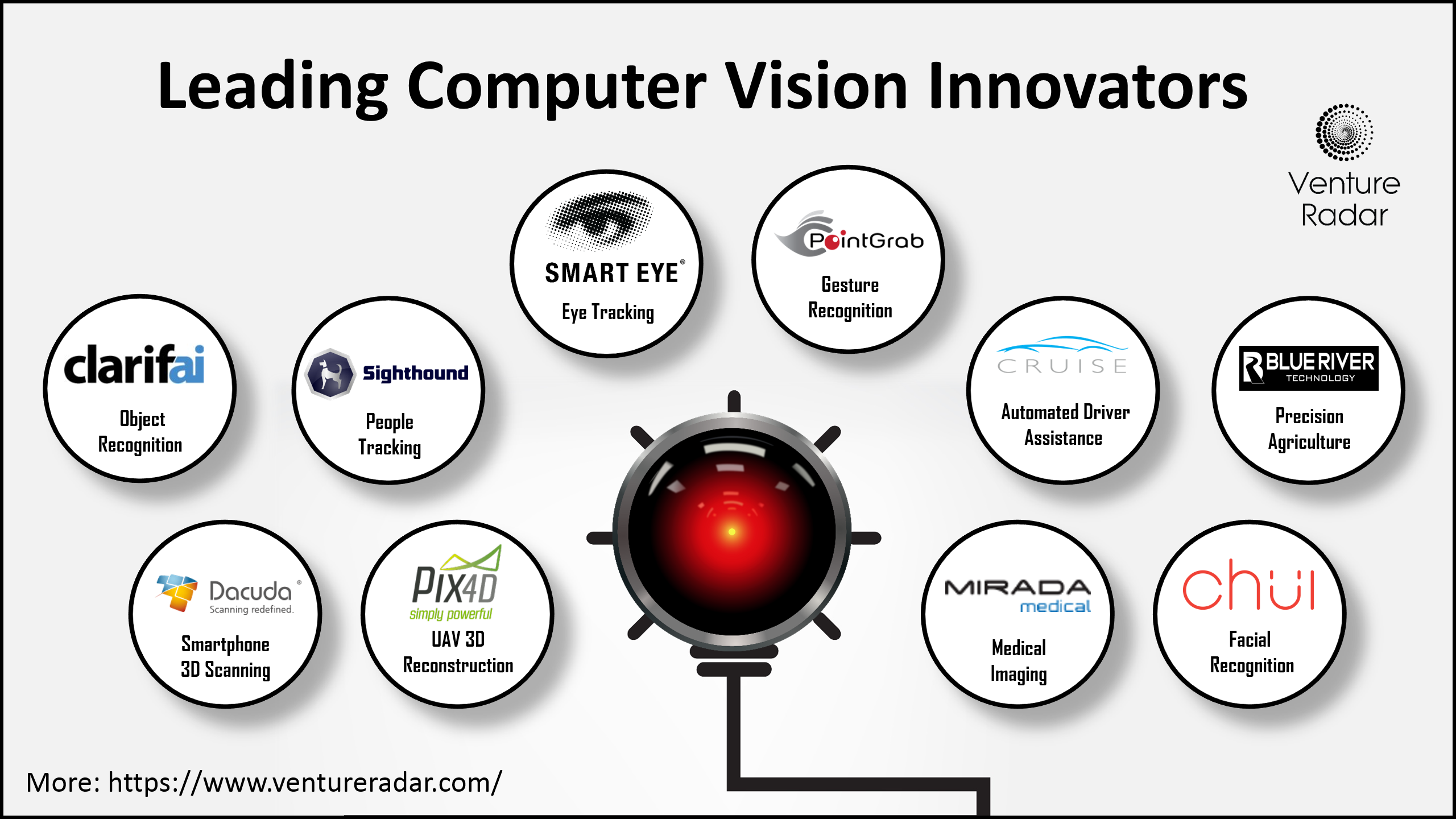 The applications and companies in the top 10 are:
Object Recognition: Clarifai provides advanced image recognition technology that can recognize thousands of categories, objects, and tags in any image. At the centre of Clarifai's technology is a high performance deep learning API on which a new generation of intelligent applications is being built for applications including advertising, eCommerce, moderation & filtering, and curation.
People Tracking: Sighthound uses computer vision technology to distinguish between people and objects. By using advanced algorithms, Sighthound is able to analyze video streams to detect, track, and recognize people and objects.
Eye Tracking: Smart Eye provides a real-time and completely non-invasive eye, eyelid and head tracking technology for a wide range of situations. Smart Eye is today regarded as a global leader in the development and delivery of remote, multi-camera head and eye tracking solutions for the Automotive, Aviation and Aerospace research and manufacturing industries.
Gesture Recognition: PointGrab develops a computer vision technology that provides an intelligent and intuitive control for home appliances and consumer electronics. PointGrab's software solution enables TVs, PCs, tablets and smartphones to be operated by a natural user interface using hand shapes and movements.
Automated Driver Assistance: Cruise has built a highway autopilot system that installs on  existing vehicles. It uses sensors and advanced machine vision technology to keep the driver in their lane and a safe distance from the car in front. The company is focused on eliminating the mundane parts of driving and improving safety.
Agricultural Precision Thinning System: Blue River Technology has developed the LettuceBot, a precision thinning system that uses cutting-edge robotics and machine learning algorithms that make plant-by-plant decisions to increase yield and ultimately earning more value from the exact same acre.
Smartphone 3D Scanning: Dacuda has developed algorithms that turn smartphones into powerful 3D sensing device, and can scale existing 3D use cases to millions of smartphones. The company already has a 3D food photography app and is developing a 3DSelfie app.
3D Reconstruction: Pix4D provides processing software for the professional unmanned aerial vehicle (UAV) market, allowing users to convert thousands of images into georeferenced 2D mosaics and 3D models.
Medical Imaging: Mirada Medical develops softwares for medical image analysis and diagnosis based on computer vision research. Its software solutions are routinely used in Radiology, Molecular imaging, Radiation Oncology and in multidisciplinary meetings throughout hospitals, imaging centers and cancer centers worldwide.
Facial Recognition: Chui  is an intelligent doorbell that uses facial recognition to make homes keyless, secure, and individualized. By Chui's intelligent doorbell, a user face becomes a key that can unlock the front door, while enabling connected devices tailored to his/her preferences.