London's status as the world's top financial centre has helped the UK become a leading location to build a financial technology startup, and is now one of the few startup hubs globally that can challenge Silicon Valley for new fintech startups. Some data suggests it may already be the leading fintech location.
Well known UK fintech startups such as Transferwise and Funding Circle are valued at more than $1bn and there are many more that are likely to reach that level. So we decided to take a look at the next wave of emerging innovators, and pick our top early stage startups (founded in 2014 or 2015) that we think will be the fintech stars of the future.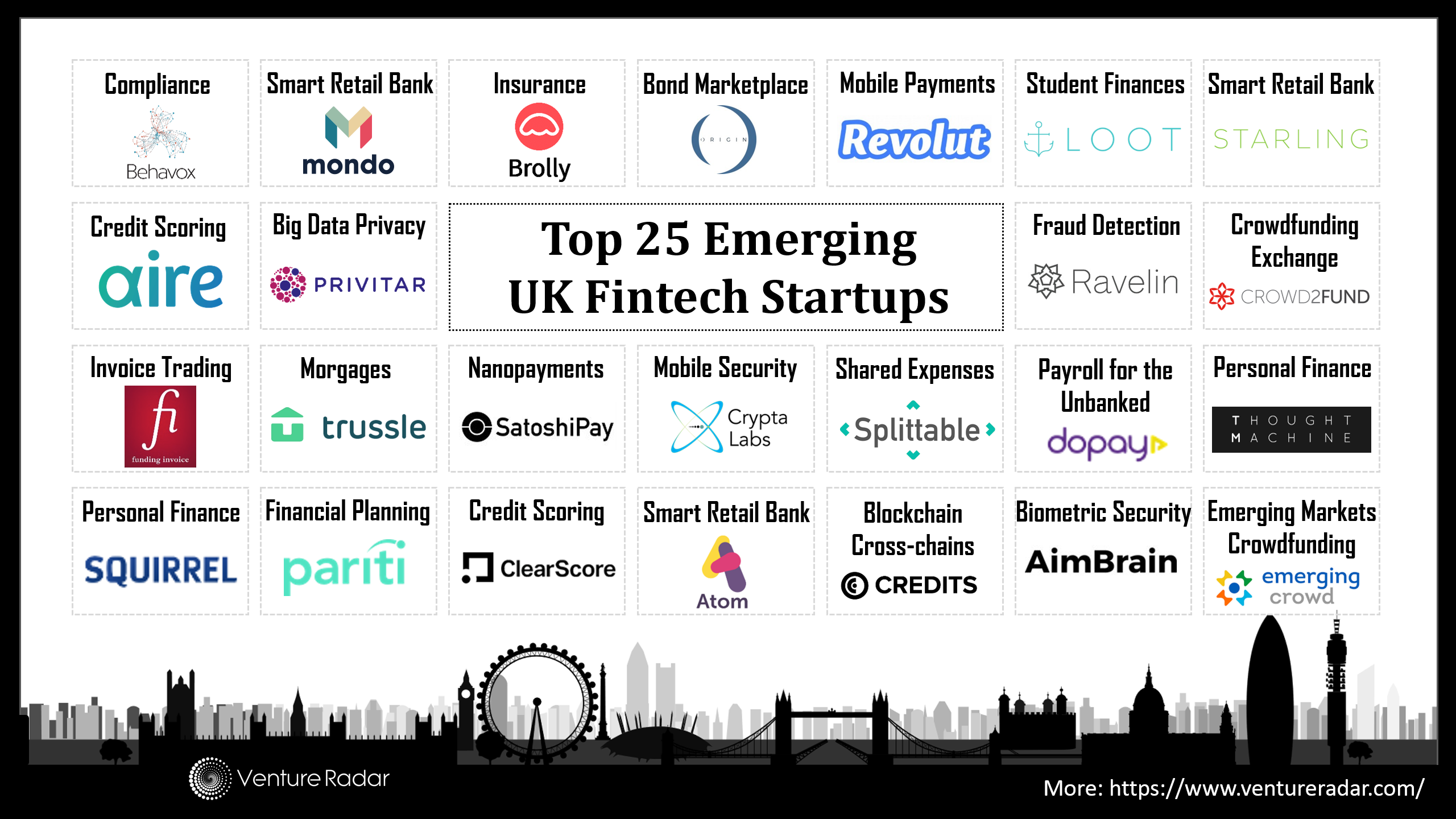 "Britain is the most attractive country in the world for building a Fintech business… …London and the UK will lead the Fintech sector" – Eileen Burbidge, Passion Capital and the UK Government's special envoy for Fintech
You can find out more about the startups in the profiles below.
You can also check out 1000s more global Fintech Startups in our database.
Behavox / Compliance
http://www.behavox.com/
https://twitter.com/Behavox
Solutions for compliance officers and forensics teams that help detect cases of market abuse, fraud, collusion, sensitive and reckless behaviour early and conduct investigations faster
Mondo Bank / Smart Retail Bank
http://getmondo.co.uk/
https://twitter.com/getmondo
Building a smart bank from the ground up to deliver intelligent banking on your smartphone.
Aire / Credit Scoring
http://aire.io/
https://twitter.com/airescore
Scoring algorithm can be applied much more robustly to a wider population including those with a 'thin-file' and by using predictive analytics, is much more accurate in forecasting creditworthiness than existing methods that are purely driven off past performance data.
Privitar / Big Data Privacy
http://www.privitar.com/
https://twitter.com/privitarglobal
The Privitar software product allows organisations to mine data sets while preserving the privacy of underlying entities. This allows organisations to broaden the use of sensitive data sets Furthermore, it mitigates against privacy harms that can occur, either unintentionally, or as a result of a malicious act.
Atom Bank / Smart Retail Bank
https://www.atombank.co.uk/
https://twitter.com/atom_bank
Atom Bank is an alternative to the High Street Banks, building a bank "with none of the baggage of the past". It was authorised as a bank on June 24th 2015 and will start to offer retail and business banking services in the UK towards the end of 2015.
Funding Invoice / Invoice Trading
http://fundinginvoice.com/
https://twitter.com/fundinginvoice
Funding Invoice is a spinout company of the University of Warwick developing an online invoice marketplace to improve cash flow for SMEs facing lengthy payment terms.
Emerging Crowd / Crowdfunding
https://www.emergingcrowd.com/
https://twitter.com/emergingcrowd
Emerging Crowd is crowd investment platform focused on unlisted growth-stage companies in emerging and frontier markets. It is focussed on selected regions that have demonstrated economic and political stability, a reliable investor protection framework, legal and regulatory certainty, transparency and market integrity.
Pariti Technologies / Personal Financial Planning
https://pariti.com/
https://twitter.com/pariti_finance
Pariti aims to be a new fairer type of finance company, providing tools, guidance and access to low cost loans to help consumers out of high-interest debt and towards a safer financial future.
SatoshiPay / Nanopayments
https://satoshipay.io/
https://twitter.com/SatoshiPay
SatoshiPay is focused on nanopayments, initially building a website widget for pay-as-you-go content payments using bitcoin.
dopay / Payroll for the Unbanked
http://www.dopay.com/
https://twitter.com/dopayHQ
Dopay's product is a cloud-based payroll service that employers can use to calculate and remit salaries electronically to staff. Bankless employees receive their salary in a dopay account, which comes with a prepaid card.
Brolly / Insurance
http://www.heybrolly.com/
https://twitter.com/heybrolly
Brolly is an early stage startup working within the prestigious Entrepreneur First accelerator program to develop an insurance company for the digital age.
Crypta Labs / Mobile Security
http://www.cryptalabs.com/
https://twitter.com/cryptalabs
Crypta Labs developing a Quantum Random Number Generator (QRNG), one of less dozen companies in the world that has this capability, and the only one according to the company that is commercialising the QRNG on a mobile device. Crypta Labs uses the mobile device's lens and the light sensors to detect photon beams and counts the photons to generate a random number. The company is working with payments companies to increase the level of their security by switching their encryption protocol from a pseudo random number generator to a true random number generator.
Origin / Bond Marketplace
https://originmarkets.com/
https://twitter.com/originmarkets
Origin is a digital marketplace connecting fixed income investors with large corporate borrowers in the bond market. The company says that it will allow large corporate borrowers to save nearly 90bps off of their cost of capital by transacting directly with fixed income investors around the world.
Credits (Pythia Group) / Blockchain Cross-chains
http://credits.vision/
https://twitter.com/CreditsVision
CREDITS is a federated blockchain framework able to communicate agnostically with other chains and solely act based on information contained outside the ledger. In financial services the Credits Blockchain platform enables financial services to automate, speed up and simplify the processing of any asset class whilst reducing settlement, counterparty and custodial risk.
Squirrel / Personal Finance
http://squirrel.me/
https://twitter.com/asksquirrel
Squirrel is a financial wellbeing platform that empowers employees to regain control of their financial lives by partnering with employers to provide simple and intuitive tools to help people save, budget and manage their bills directly from their payroll.
Revolut / Mobile Payments
https://revolut.com/
https://twitter.com/RevolutApp
Revolut is a 'personal money cloud' that allows you to exchange currencies at interbank rates, send money through social networks and spend with a multi-currency card that is accepted anywhere.
Crowd2Fund / Crowdfunding Platform and Exchange
https://www.crowd2fund.com/
https://twitter.com/crowd2fund
Crowd2Fund is the only FCA regulated crowdfunding platform to offer 5 models of finance, across debt and equity investments. With the launch of a secondary market facility, the Crowd2Fund Exchange, in May 2015, the platform also allows investors to buy and sell their shares in businesses.
Thoughtmachine / Personal Finance
http://www.thoughtmachine.net/
https://twitter.com/thghtmachine
Thought Machine is working on new technology to bring Machine Learning and Big Data to the world of personal finance, and to do so in a way that "provides a beautiful intuitive user experience". Formed in May 2014 by serial entrepreneur Paul Taylor.
Starling Bank / Smart Retail Bank
http://starlingbank.co.uk/
https://twitter.com/StarlingBank
Starling Bank intends to build a smarter bank that is mobile first and makes managing your finances "effortless and empowering". The company is led by former Allied Irish Bank COO Anne Boden.
Aimbrain / Biometric Security
http://aimbrain.com/
https://twitter.com/AimBrainHQ
AimBrain's first product is a biometric security layer that can be used with any mobile data-sensitive application. It tracks not only what the user enters, but also how they enter it.
Ravelin Technology / Fraud Detection
https://ravelin.com/
https://twitter.com/ravelinhq
Ravelin is a smarter fraud prevention platform that is applying machine learning and domain expertise to the ever changing face of online fraud. It is designed to see where fraud is happening, how much and by what routes and allow users to report on Acceptance, Chargeback and Prevention rates and take action based on real intelligence.
Loot / Student Finances
http://lootapp.io/
https://twitter.com/LootApp
Loot is a new student banking service which designed to help users save cash through better money management.
Clearscore / Credit Scoring
https://www.clearscore.com/
https://twitter.com/ClearScore
ClearScore was co-founded by Google's former UK managing director Dan Cobley, and is led by co-founder and CEO Justin Basini, to improve the confusing world of credit reports and credit scores. By giving consumers free access to their credit report and credit score ClearScore aims to become a important tool for consumers to actively manage their financial profile and ensure they get the best access to financial products.
Trussle / Morgages
https://trussle.com/
https://twitter.com/trussleUK
Trussle believes banks and brokers have created a home buying experience full of complexity and frustration for too long so are redesigned the process from scratch to make it simpler, faster and more transparent.
Splittable / Shared Expenses
https://www.splittable.co/
https://twitter.com/SplittableApp
Splittable makes it easy to split bills, rent & everyday expenses between housemates. The company is helping the world's growing population of young renters manage their shared expenses.
Background photograph by Jason Pope