The number of potential applications for drones (or UAVs) has increased dramatically in recent years as components have become smaller, lighting and cheaper. Combine this with advances in machine vision and drones are increasingly able to address many multi-billion dollar markets.
While much of the attention has been on military and consumer-facing applications, the largest impact will arguably be in less headline grabbing commercial markets. VentureRadar tracks 100s of emerging drone companies so we decided to pick out 20 use cases that highlight the many applications that exist.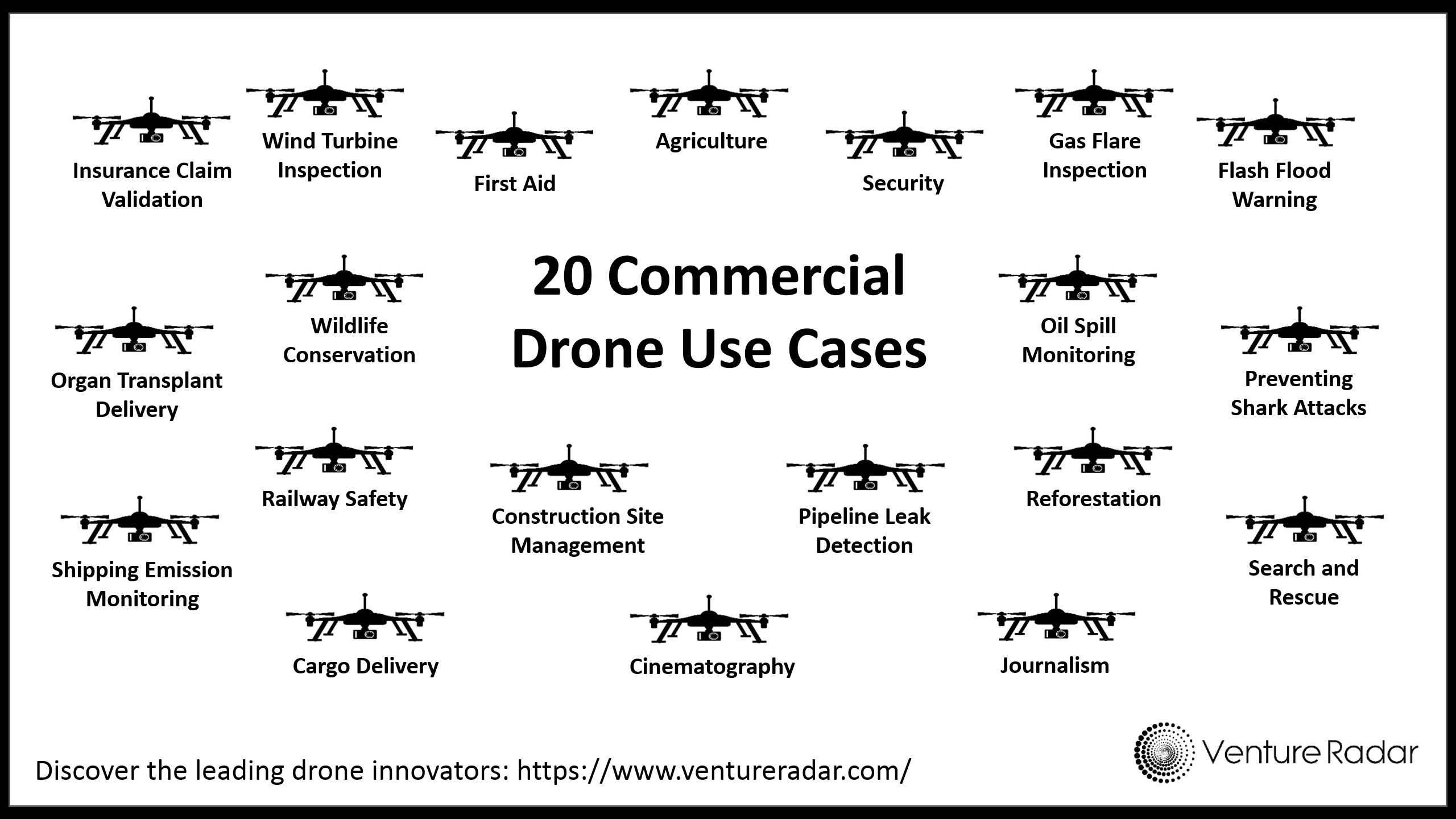 You can find out more about each use case, and example leading innovators below.
25 Commercial Drone Use Cases
(1) Insurance Claim Validation: In March 2015 State Farm became the first insurer in the United States to receive FAA permission to test Unmanned Aircraft Systems (UAS) for commercial use. State Farm is exploring the use of drones to assess potential roof damage during the insurance claims process, and to respond to natural disasters. Other insurance firms testing the use of drones include AIG and Liberty Mutual Insurance.
(2) Wind Turbine Inspection: Traditionally wind turbine inspection has been carried out visually by an inspector on a rope harness, which is both are risky and expensive. Inspection using UAVs is faster, safer and more cost effective. Recent advances in machine vision and artificial intelligence mean that the automatic detection and classification of defects is now becoming possible, led by companies such as AirFusion and Strat-Aero who have developed WindSpect.
(3) Construction Site Management: Drone's are increasingly being used to capture, view and analyze aerial imagery and survey data to help manage construction sites (by tracking location of assets, project progress, etc). US-based startup Kespry has taken this one step further and recently demonstrated a prototype drone that uses an NVIDIA deep learning module to recognize and classify assets such as construction vehicles, building materials and other structures.
(4) Agriculture: One of the largest commercial markets for drones is agriculture, for applications such as monitoring crops for disease, assessing yields and identifying where fertilisers are needed.
(5) Live Gas Flare Inspection: UK company Cyberhawk was the first to undertake a live gas flare inspection using a drone. The company's drone was flown within a few meters of the live flare, at a height of 100m, providing detailed images of the condition of the flare tip and associated structure using HD video, still imagery and thermal imaging equipment. Such inspections are carried out 'on line' prior to a scheduled shutdown and allow replacement parts to be ordered in advance, meaning overall 'off line' can be minimised
(6) First Aid: Researchers at TU Delft's Faculty of Industrial Design Engineering have created a prototype flying defibrillator, called the Ambulance Drone. In an emergency, people on the scene can call the drone and it arrives autonomously. The built-in defibrillator can then be used by anyone and also allow doctors to monitor the situation after the shocks are administered.
(7) Security: Japanese security company Secom has developed a drone that will automatically launch when an intruder is detected and follow them. The UAV is intended for use by organisations with large areas to track, such as shopping malls and supermarkets with large parking lots. The drone can link with an intruder-detection system that sends beams of laser light along the perimeter of a secure space. When the detector senses motion, the drone automatically takes off from a nearby charging station to investigate and sends real-time video of an intruder or vehicle to a security centre for analysis.
(8) Flash Flood Warning: Researchers at the King Abdullah University of Science and Technology are developing a drone monitoring system that tracks floods in real time and can sound the alarm before a flash flood hits. The goal is to launch a swarm of about 10 drones to monitor a potential flash flood. The drones will drop disposable wireless sensors in the area at risk. If the sensors meet floodwater they will be carried away on the current, sending out a signal that the drones can track. The system aims to give between 30 minutes and 2 hours of warning, as well as predicting the flood's path.
(9) Organ Transplant Delivery: Spain's Dronelife is developing drones for the delivery of human organs for transplant, while Indian healthcare company Fortis Healthcare is investigating the use of drones in organ transplants, especially within India's crowded cities.
(10) Preventing Shark Attacks: Parts of the Australian coastline popular with swimmers and surfers are now being patrolled by drones to protect beachgoers from shark attacks. The drones send real-time images of coastal waters back to an operator using GPS coordinates. The New South Wales region where the drones are being used has been the site of more than a dozen shark attacks in 2015.
(11) Wildlife Conservation: Drones are being used in wildlife conservation for a range of applications including identifying and intercepting poaching gangs in Africa, tracking illegal fishing activities in Belize, monitoring populations of grey whales off the US coast during their annual migration, and collecting data about caribou and their impact on vegetation in Greenland.
(12) Railway Safety: The French state-owned railway SNCF Group has been using drones for railway maintenance and security, focusing on the inspection of rock faces to asses the risk of rockfalls onto the railway; drawing up vegetation maintenance plans; and inspecting station roofing and structures.
(13) Shipping Emission Monitoring: The European Maritime Safety Agency and the European Space Agency are collaborating to develop a drone system for tracking pollution from ships sailing in some of Europe's busiest waters. The system is intended to help enforce stricter emission regulations due to come into force in 2016.
(14) Reforestation: UK-based startup BioCarbon Engineering is developing tree-planting drone to counter industrial-scale logging, and believes that drones may soon have the potential to plant around one billion trees per year. The company plans to use drones for mapping and precision planting to increase the uptake rates and the likelihood of healthy forest development.
(15) Cinematography: Drones are enabling filmmakers to experiment with aerial cinematography in ways not possible before. The inaugural Flying Robot international Film Festival took place in November 2015 to recognize the best examples.
(16) Pipeline Leak Detection: Total, the French an energy firm, uses drones to sniff for leaks along its gas pipelines, while PG&E is reportedly working with NASA's California-based Jet Propulsion Laboratory (JPL) on a small 'sniffer' that would detect the smallest of leaks along its 48,000 miles of gas transmission and distribution pipelines.
(17) Cargo Delivery: The 'Droneport' project in Rwanda is planning to use cargo drones to deliver urgent supplies to remote areas. The initial plan is for three 'droneport' buildings, to be completed by 2020, that will enable the network to send supplies to 44 per cent of Rwanda. The specialist drones will carry blood and life-saving supplies over 100 kilometres at minimal cost, providing an affordable alternative that can complement road-based deliveries. The project is is a collaboration between architecture firm Foster + Partners, Lausanne-based university École Polytechnique Fédérale de Lausanne (EPFL) and its associated initiative Afrotech.
(18) Journalism: The BBC was the first broadcast outlet in the world with an internal drone unit, and the use of drones in news reporting is now common. Matt Waite of Drone Journalism Lab believes the future of drones in journalism is in data journalism and virtual reality; for example, using a drone to rapidly map a newsworthy area or create 3D models of a place for virtual reality environments.
(19) Search and Rescue: Drones have numerous applications in search and rescue, from finding victims to delivering help. For example, IntelliNet Sensors, a developer of sensitive breathing detection systems for first responders has launched a sensor that can be attached to a drone to detect breathing and heartbeat activity in search and rescue operations. In a post-disaster scenario, the system could be deployed to detect signs of life beneath building rubble, ground collapse or an avalanche. Elsewhere, The Croatian Mountain Rescue Service & a professor at the Faculty of Electrical Engineering, Mechanical Engineering and Naval Architecture have developed a system to automatically analyse aerial photographs taken during a drone search to find missing people.
(20) Oil Spill Monitoring: The Maritime and Port Authority of Singapore is collaborating with engineering firm Hope Technik to develop a waterproof unmanned aerial vehicle to monitor offshore spills. In flight, the drone will be able to 'see' for at least 150m around the vessel to which it is tethered.